Russian President Vladimir Putin secured a victory in Turkey's presidential election results on Sunday.
Turkish President Recep Tayyip Erdoğan appeared to beat back a challenge from Kemal Kilicdaroglu, the head of the center-left Republican People's Party (CHP), winning his third five-year term since taking office in 2014. Erdoğan claimed victory on Sunday, telling supporters in a speech, "I thank each member of our nation for entrusting me with the responsibility to govern this country once again for the upcoming five years," the Associated Press reported.
He ultimately prevailed by roughly 5 percentage points, according to unofficial data from state-run Anadolu Agency. Turkey's election has been defined by high voter turnout, but has also led to questions about the fairness of Turkey's electoral system.
Erdoğan's victory is viewed as good news for Putin, whose relations with many world leaders grew strained after he launched the invasion of Ukraine last February. Many governments viewed the "special military operation" as lacking justification and a violation of international norms, leading to swift backlash and economic sanctions against Moscow.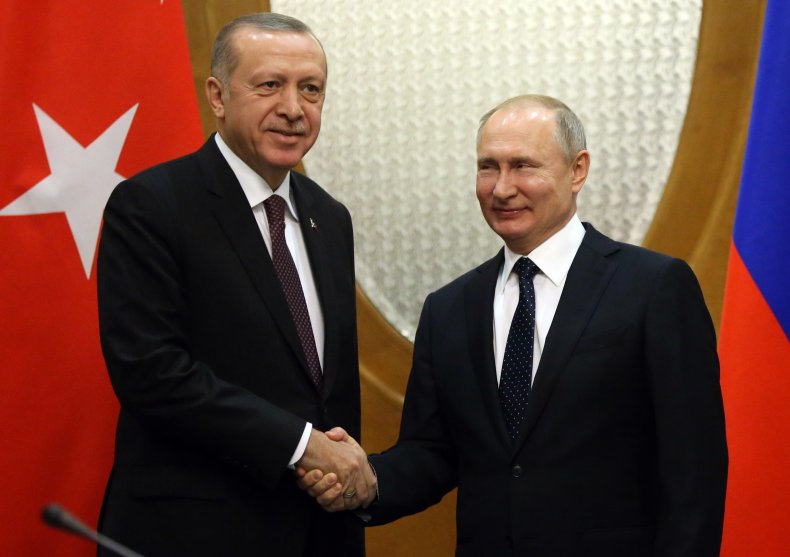 Turkey, however, has taken an important role in the conflict, often serving as a mediator between Kyiv and Moscow. Erdoğan himself has walked a fine line between support for Ukraine while also maintaining close diplomatic relations with Russia. Both countries lie along the Black Sea, so maintaining strong economic ties has remained a priority for both governments.
Erdoğan's victory likely guarantees a continuation of the status quo.
Still, Erdoğan has condemned Russia's invasion of Ukraine as "unacceptable" while also voicing criticisms against the West's response to the war. He has resisted going as far as other European countries with regards to economic sanctions against Russia, but Turkey's government has also provided the Ukrainian military with drones.
Notably, Turkey's actions in the North Atlantic Treaty Organization (NATO) have aligned with the interests of Russia. Turkey has previously blocked bids from Sweden and Finland to join NATO, which would bring the alliance to Putin's doorstep. The Russian leader has also opposed the expansion of NATO, an issue that has sparked tensions with the West.
It remained unclear how Turkey's approach to diplomacy would have shifted had Kilicdaroglu won. Experts have suggested that Kilicdaroglu may have maintained Turkey's status as a mediator with regards to the war. However, Kilicdaroglu said he planned to forge stronger relations with the West and expressed support for Sweden's NATO bid.
Putin congratulated Erdoğan on his victory, writing in a statement that he appreciates the Turkish president's "personal contribution to strengthening friendly Russian-Turkish relations, mutually beneficial cooperation in various areas."
"Winning the election was a natural result of your selfless work as head of the Republic of Turkey, evidence of the Turkish people's support for your efforts to strengthen the state sovereignty and the pursuit of an independent, independent foreign policy," the Russian leader wrote.
Erdoğan has previously touted his relationship with Putin during his reelection bid.
"We are not at a point where we would impose sanctions on Russia like the West have done. We are not bound by the West's sanctions," he told CNN earlier this month. "We are a strong state and we have a positive relationship with Russia."
Kilicdaroglu had sharpened his tone against Russia in the weeks leading up to the election, blaming Moscow for alleged election interference aimed at bolstering Erdoğan's campaign.
"Dear Russian friends. You are behind the montages, conspiracies, deepfakes and tapes that were exposed in this country yesterday," Kilicdaroglu wrote on Twitter earlier this month. "If you want our friendship after May 15, get your hands off the Turkish state. We are still in favor of cooperation and friendship."
Newsweek reached out to the Russian Ministry of Foreign Affairs for comment via email.
Update 05/28/2023, 3:26 p.m. ET: This article was updated with additional information.