The President of Ghana, Nana Addo Dankwa Akufo-Addo, is expected to address the country tonight Sunday May 28, 2023 on the efforts put in place to combat the spread of COVID-19.
This announcement comes after the nation lifted all COVID-19 related entry restrictions.
Following the announcement by the government of Ghana, officials have confirmed that the decision was taken after Ghana met the necessary safety standards set by the World Health Organization (WHO).
Ghana has also made substantial progress in rolling out their vaccination programme and continues to encourage all eligible citizens to get vaccinated as soon as possible.
The relaxation of entry restrictions means that travelers are no longer required to produce negative PCR test results before entering the country. It is also no longer mandatory for travelers to complete the Health Declaration form, which was previously used to track the health status of incoming passengers.
However, authorities in Ghana strongly urge individuals to maintain basic safety measures such as regular hand washing and mask-wearing. In addition, public gatherings such as weddings, funerals and other social events must observe the necessary protocols to help keep the spread of the virus at bay.
Experts note that while the lifting of entry restrictions may lead to an increase in the number of infections, it is important for the Ghanaian economy which relies heavily on international tourism.
In conclusion, the upcoming address by President Akufo-Addo is a call to all residents of Ghana to remain vigilant and to continue to take measures to prevent the spread of COVID-19.
The government continues to monitor the situation, and individuals should also take personal responsibility for their safety and that of their communities.
The address will also touch on the $3 billion IMF bailout to revamp the economy.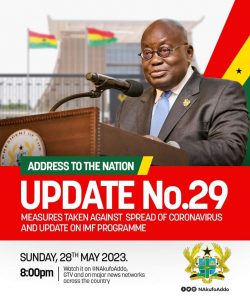 By Vincent Kubi