This is to inform the students of Nnamdi Azikiwe University (UNIZIK) that the second semester examinations which were earlier scheduled for 27th March – 6th April 2023 according to the 2021/2022 Academic Calender have been postponed until further notice.
The postponement is meant to alleviate the pressure on the students and give them more time to prepare for their examination.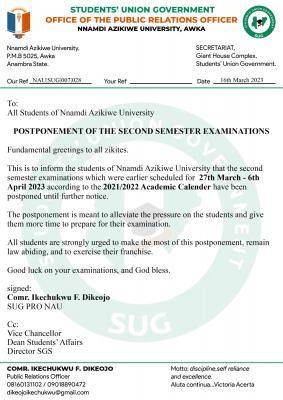 All students are strongly urged to make the most of this postponement, remain law abiding, and to exercise their franchise.
Good luck on your examinations, and God bless.
signed:
Comr. Ikechukwu E Dikeojo
SUG PRO NAU
SUG
Cc:
Vice Chancellor
Dean Students' Affairs
Director SGS