Guests and hosts in a group photograph after the presentation
In furtherance of their corporate social responsibility (CSR), Tema Lube Oil Company Limited (TLOC), a premier lubricant blending plant, has established a fully equipped Information Communication Technology (ICT) centre for the Presbyterian Senior High School in Tema.
The donation includes the refurbishment of the ICT centre, 40 desktop computers, a laptop, printer, projector, projector screen, and two air conditioners.
All the computers and the laptop come pre-installed with Microsoft Windows 11 operating system, Office Suite, and Windows Defender anti-virus software.
The Board Chairman of Tema Lube Oil Company Limited, Abdul Rahmann Alhassan Gomda, explained that the donation is part of the company's corporate social responsibility.
He highlighted that the company has a commitment to making significant contributions in the areas of health, education, and security.
Some of the previous donations made by the company include an ambulance and medical ventilator for Tema General Hospital, a dental facility for Tema Manhean Health Centre, and the conversion of two classrooms into a modern science laboratory for Chemu Senior High School.
Expressing his gratitude, the headmaster of the school, George Kwaku Ankoma, emphasised the impact that the refurbished ICT lab will have on the students' learning.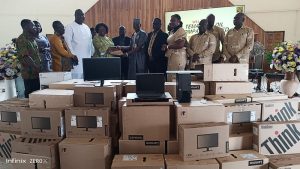 He stated that access to modern facilities and essential digital skills is crucial in today's world, and the donation will empower the students to explore the vast world of information and technology.
The Managing Director of Tema Lube Oil Company, Mr. Amos Donkoh, in response, expressed belief in the future of the students and the importance of investing in the school's ICT lab.
He thanked his team for their dedication and hard work in refurbishing the lab.
The Member of Parliament (MP) for the area, Yves Nii Noi Hanson-Nortey, appealed to the school authorities to ensure that the students make good use of the lab without abusing it.
For her part, the Tema Metro District Director of Education, Mrs. Bernice Ofori, advised the school to take good care of the ICT equipment so future generations can use them too. She commended TLOC for their kind gesture and called on other organisations to emulate their example.
The donation is seen as a significant step towards enhancing the students' learning experience and preparing them for the digitalised world.
By Vincent Kubi