After a productive meeting between the Students Union and the management, we are thrilled to announce that the school fees has been reduced for freshers and returning students
This reduction is a result of our collective efforts and the commitment of both the Students Union (HOCS and GGs) and the management to prioritize the well-being and affordability of education for all. We understand the financial challenges that many students and parents face, and we are dedicated to ensuring that education remains accessible to everyone.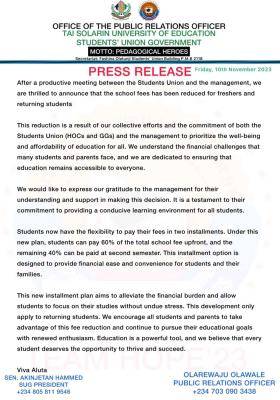 We would like to express our gratitude to the management for their understanding and support in making this decision. It is a testament to their commitment to providing a conducive learning environment for all students. Students now have the flexibility to pay their fees in two installments. Under this new plan, students can pay 60% of the total school fee upfront, and the remaining 40% can be paid at second semester. This installment option is designed to provide financial ease and convenience for students and their families.
This new installment plan aims to alleviate the financial burden and allow students to focus on their studies without undue stress. This development only apply to returning students. We encourage all students and parents to take advantage of this fee reduction and continue to pursue their educational goals with renewed enthusiasm. Education is a powerful tool, and we believe that every student deserves the opportunity to thrive and succeed