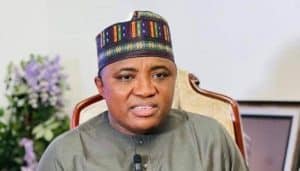 The Social Democratic Party (SDP) has condemned the outcome of the governorship election in Kogi State.
Naija News gathered that SDP described the results of the election as unaccepted and a travesty of fairness and justice.
The National Secretary of the party, Olu Agunloye, noted that the party is going to challenge the result in court.
Agunloye, in a statement released in Akure, the Ondo state capital, said that the election results declared by the Returning Officer in Kogi State are incorrect and a travesty of fairness and justice.
According to him "the party has grounds to challenge the results declared by INEC.
"The declaration was especially in error and not by the provisions of the law because hundreds of thousands of votes allocated to APC can be proven Unit by Unit to be illegal, irregular and illegitimate."
Agunloye further stated that the party's national chairman, Shehu Gabam will lead the party "to get redress and justice in the case of blatant rape of justice in Kogi State."
He noted that the party has locus and grounds to challenge last Saturday's election results.
According to him, "The SDP leadership under the fearless Alh Shehu Gabam fought fiercely to defend the Muri-Sam Campaign Organisation during the Campaign and is still doing so.
"The concerns and commitments of the members of SDP NWC, the SDP Chapter in Kogi State and its Excos, serving SDP members in the National and State Assemblies with Senator Ahmed Wadada Aliyu as Caucus Leader as well as the former SDP National and State candidates have been deep and outstanding.
"These wonderful leaders of SDP have all been most supportive of the Purification of Kogi State and the quest for the Lokoja Government House.
"The SDP National Chairman and these inspiring leaders are clearly on a mission to build a viable political party, an exemplary brand, and an enduring legacy."
Agunloye, however, commended the party's governorship candidate, Murtala Yakubu Ajaka for providing the most courageous, and focused electioneering campaign in contemporary times.
He added, "Muri's efforts are unprecedented and must be recognised and commended. I doff my hat for him and his entire team using Bar Shuabu Aruwa SAN, Dr. Arome Salifu, Bar Rilwani Okpanachi, Hon Semion Achuba (former deputy governor to Mr. Yahaya Bello), Hon Hassan Yakubu Enape, Hon Gowon Enenche (aka Makopolo General), Hon Ben Ikani Okolo, Spokesman Farouk Adejoh, Dr. Job Amana, indefatigable DG Shiek Jibrin, and Chairman Col. Suleiman Babanawa."
The party's national Secretary said, "The team members have exhibited a most wonderful collaboration."
The post 'SDP Reveals Next Plan After Defeat In Kogi' appeared first on Naija News.