An elderly couple from Kerala is making waves on social media by recreating the famous selfie scene from the blockbuster animation movie 'Zootopia'. The couple from Punalur, who goes by the name Achamass, has been praised for their perfect timing and expressions in the reel, which has already crossed 10 million views. 
Speaking to Onmanorama, sixty-year-old Retnamma and 70-year-old Thulasidharan say they never anticipated such a response to their reel and are overjoyed with people's reactions. "We only did what our grandsons asked us to do, just like in all our reels. We have been getting some good response for all our reels, but this was the first time we are hitting over a million as a couple," says Retnamma.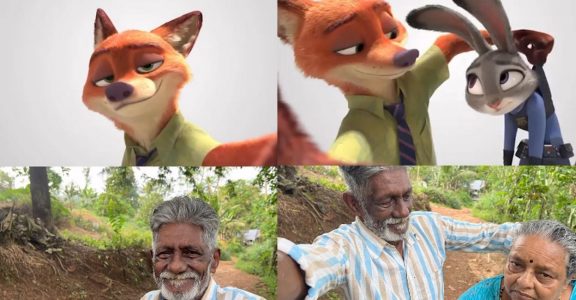 According to Retnamma's grandson Amal who captured and edited the video, the Zootopia selfie reel has been trending on social media for some time now. "However, most of these reels featured youngsters. We decided it would be unique if we involved our grandparents," he said.
Amal says they, in fact, had filmed the video three months before 'Zootopia selfies' became a trend on Instagram. "We could not post this earlier because I lost some of the files and we had to rework on it," he said. The reel has a total of three videos and four photographs. "Clicking the photographs was not difficult. However, capturing the videos of their expressions was challenging since all the emotions had to be in sync with the video. We had to take some retakes, but overall things went smooth. They were amazing at it," he says.
Most netizens who watched the reel commented about the chemistry between the elderly couple. "Aahh! My heart is full," wrote one person. "Isn't this the most adorable thing I have come across today?". "Stole my heart," exclaimed another. Several international YouTubers have also commented on the post.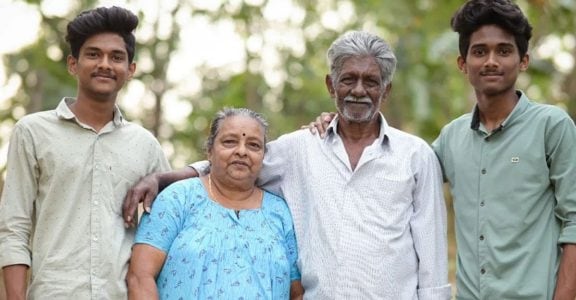 So, were the elderly couple always this willing to be captured on camera? "Achamma (grandmother) was never hesitant. When we told her about our idea to start such a page and a YouTube channel last year, she was always willing. Achachan (grandfather) was initially hesitant to show his face in front of the camera, but soon that changed when he started seeing Achamma perform. Now, they mostly do couple reels. Sometimes, Achachan does single reels," says Amal.
The couple's off-screen cuteness is as beautiful as their off-screen chemistry. In fact, both of them have had an adventurous life so far, from the time both of them met and fell in love at a small tea shop in Thenmala. And just like Judy Hopps, the bright aspiring police officer and Nick Wilde, the cunning fox in 'Zootopia', Retnamma and Tulasidharan's friendship knows no bounds.