Applications are invited from suitably qualified candidates for admission into the one-year intensive Pre-Degree Programme of Ebonyi State University for the 2023/2024 Session. Our mission in Pre-Degree School is to provide high quality, affordable and accessible educational programmes that will enable our students gain access to all University Programmes.
SCOPE OF THE SCHOOL PROGRAMME
The Pre-Decree School (PDS) prepares candidates, through intensive lectures and tutorials, for the following examinations: i. Joint Admission and Matriculations; ii. O' Level Examinations (SSCE, NECO, etc).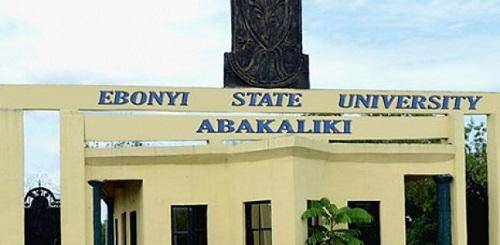 BENEFITS OF THE PROGRAMME
ii. Candidates are adequately prepared for JAMB/UTME for admission into any Nigerian University of their choice, including Ebonyi State University, Abakaliki.
ii. The programme also serves as a remedial programme for candidates preparing for O' Level examinations. The programme is not however a substitute for O' Level requirements for main course University admissions.
iii. Successful Pre-Degree candidates benefit specially from the JAMB/UTME admission quota reserved for Pre-Degree candidates, provided they obtain the minimum JAMB/UTME score, and also make Ebonyi State University their first choice University.
iv. The programme also gives intensive training to students in basic Information and Communication Technology (lCT) to keep them abreast with modem technological developments.
MAIN UNIVERSITY PROGRAMMES WHERE SUCCESSFUL PRE- DEGREE GRADUATES CAN BE ADMITTED
Successful Pre-Degree candidates shall be eligible for admission into all the currently available programmes of Ebonyi State University, Please check the attached PDF for the list.
ADMISSION REQUIREMENTS
To be eligible for admission, a candidate must have five (5) credits in GCE O' Level, SSCE or NECO, at not more than two sittings. OR Must have attempted SSCE or NECO, O' Level examinations. The aim is to prepare the candidates for such O' Level examinations. Please note that candidates' ability to secure admissions into Ebonyi State University main degree programmes after the Pre-Degree is on the condition that they meet minimum O' Level requirements.
DURATION OF PROGRAMME
The programme is designed for one academic session
METHOD OF APPLICATION
Interested candidates are to visit EBSU website www.ebsu.edu.ng for the purchase of application forms at a non-refundable cost of N10,050.00 (Five Thousand fifty Naira only. Instructions for the purchase and filling of forms are as stated below;
a. Visit www.ebsu.edu.ng or portal.ebsu.edu.ng
b. Click on Admission
c. Select Online Application
d. Select Pre-Degree School Application Form
e. Enter your phone number
f. From the displayed page, select "Proceed" to generate payment invoice
g. Fill in your details and submit h. Proceed to any bank of your choice for payment through remita platform
I. Re-visit the website (www.ebsu.edu.ng or portal.ebsu.edu.ng). log in, fill the form and submit, attaching your most recent passport.
j. Print out your acknowledgement slip, and await further information from the University.
Please, note that the University shall not be liable for any fraudulent payments or transactions made anywhere that are not consistent with the given directives.
COMMENCEMENT AND CLOSING DATE
Sale of Admission Forms starts immediately and ends on 30th November, 2023, while lectures will commence on 5th December, 2023.