Dr. Mahamudu Bawumia, Vice President and the newly elected leader of the New Patriotic Party (NPP), has reached out to his former rivals, Dr. Owusu Afriyie Akoto, who was defeated in the party's Presidential Primaries held on November 4, 2023.
Dr. Akoto, who is also the former Minister of Agriculture, expressed his satisfaction with Dr. Bawumia's gesture, highlighting the importance of unity and consultation as the NPP prepares for the upcoming 2024 elections.
Dr. Bawumia's decision to engage with his fellow contestants in the primaries demonstrates his commitment to inclusivity and his willingness to hear diverse perspectives.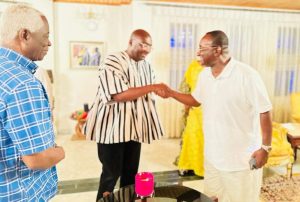 By consulting with all stakeholders within the party, he aims to foster a sense of unity and teamwork as they work towards securing victory in the forthcoming elections.
During these visits, Dr. Bawumia has actively shared and exchanged ideas with his colleagues, highlighting the importance of collaboration and collective decision-making. This approach signifies his intention to create a platform for open dialogue and harness the wealth of experience and knowledge within the NPP.
Dr. Afriyie Akoto, in response to Dr. Bawumia's outreach efforts, expressed his appreciation for the opportunity to engage with the Presidential Candidate.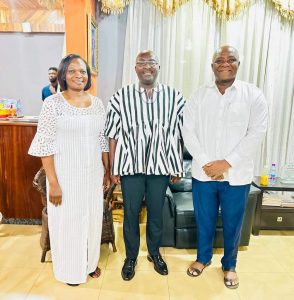 He described the experience as "very refreshing" and emphasized the significance of such consultations in shaping the party's strategies for the 2024 elections.
Dr. Akoto's willingness to work alongside Dr. Bawumia demonstrates a commitment to party unity and a shared goal of securing victory in the upcoming elections.
The NPP flagbearer also visited Francis Addai-Nimoh who came last in the flagbearership race with the same message of unity.
As the NPP gears up for the 2024 elections, Dr. Bawumia's inclusive approach and willingness to engage with all stakeholders within the party are seen as positive steps towards strengthening unity and fostering a sense of collective purpose.
By actively seeking input and sharing ideas, the Presidential Candidate aims to develop a comprehensive and robust campaign strategy that resonates with the aspirations and needs of the Ghanaian people.
The engagement between Dr. Bawumia and Dr. Afriyie Akoto is expected to set a precedent for further consultations within the NPP as they continue their preparations for the 2024 elections.
As the party builds momentum and refines its vision, the outcome of these discussions will shape the NPP's policies and strategies moving forward.
With unity and collaboration at the forefront, the NPP aims to present a strong and cohesive platform to the electorate in the 2024 elections, as they seek to retain power and continue working towards the development and progress of Ghana.
By Vincent Kubi