Secret Reporters
In Nigeria, the Covid-19 pandemic, lockdown and #EndSars protest were the main events that took centre stage in 2020. Regrettably, the Covid-19 experience impacted most Nigerians negatively, while a corrupted few benefited from the pandemic. The Negative impact was due to the economic hardship induced by the pandemic and the lockdown that followed that positively impacted a corrupted few who took the opportunity to utilize public funds and properties for personal and selfish gains.
At the peak of the corrupt practices during the lockdown period was the hoarding of food Palliatives meant to cushion the harsh effect of the Covid-19 lockdown on vulnerable Nigerians. However, some government officials denied accusations of food hoarding or the plan to sell the supplies. In response to the hoarding accusations, the National Governors Forum (NGF) stated that some looted items were a "strategic reserve ahead of a projected second wave of COVID-19."
SecretReporters in its bid to expose corrupt practices among politicians and government officials obtained and studied documents from the Open Treasury Portal containing details of the amount state governments in Southwestern Nigeria spent to tackle the Covid-19 pandemic. Findings show that Southwestern states spent a total of N158,512,382,238.92. This amount, when studied, exposed the hypocritical Nature of state government response during the Covid-19 Pandemic.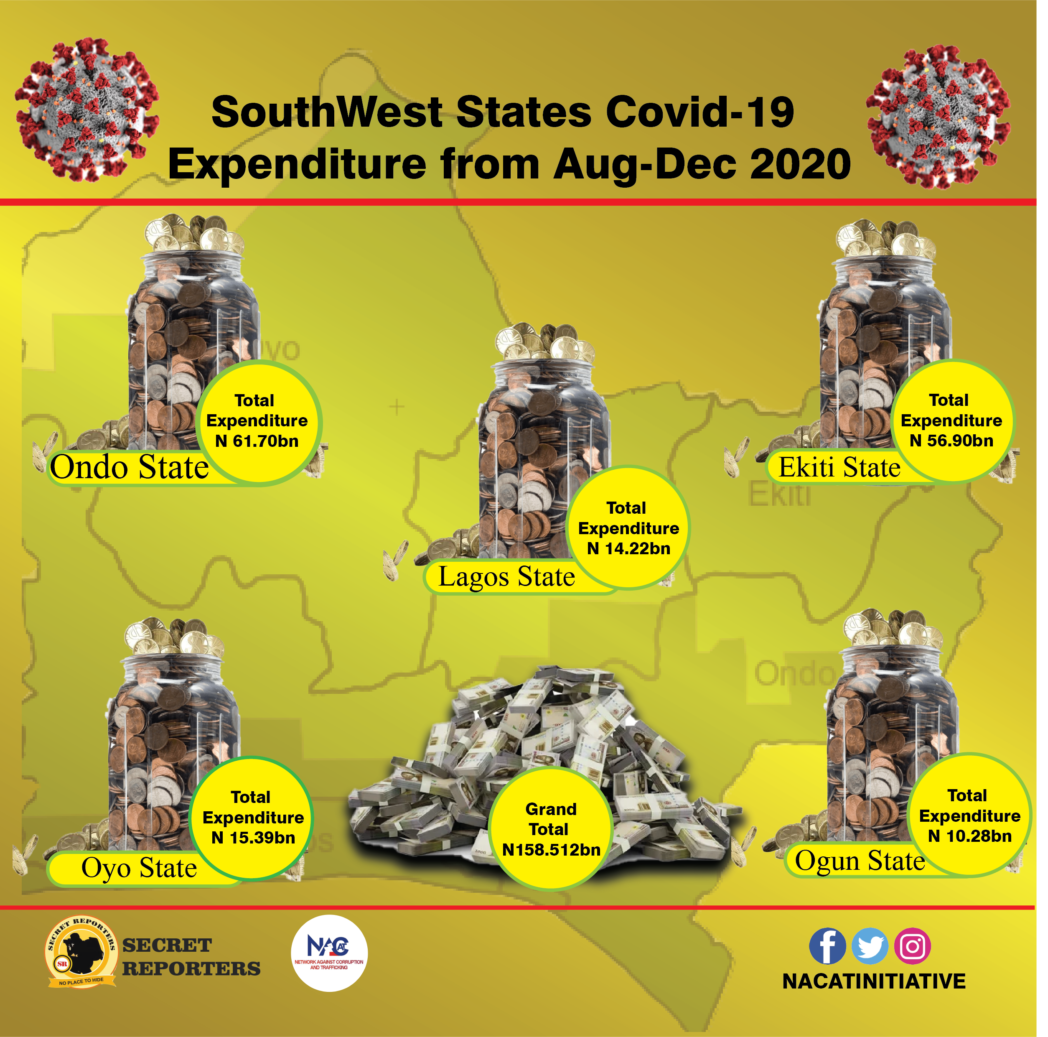 According to the document, the southwestern states were hypocritical on the expenditure of N158,512,382,238.92, which if utilized judiciously, would have drastically reduced the adverse economic effects of the pandemic on vulnerable Nigerians. SecretReporters can authoritatively report that most southwestern states hoarded funds for selfish gains, as seen in the series of events that ensued during the pandemic, especially the discovery of government-managed warehouses, where officials allegedly hoarded palliatives meant for citizens, thus the extreme hardship suffered by Nigerians during the pandemic.
With the exclusion of Osun state, findings show a breakdown of how much each southwestern state spent on the fight against COVID-19 between August and December 2020.
Oyo state Covid-19 Monthly Budget performance
| | | | | |
| --- | --- | --- | --- | --- |
| Month | Final Budget (N) | PMTS (N) | Budget Bal (N) | Achievement (N) |
| October | 22,796,787,600.70 | 4,196,074,679.77 | 18,600,712,920.93 | 18.41% |
| November | 22,796,787,600.70 | 4,520,211,178.77 | 18,276,576,421.93 | 19.83% |
| December | 22,796,787,600.70 | 6,683,079,437.83 | 16,113,708,162.87 | 29.32% |
Total PMTS: N15,399,365,296.37
Ogun state Covid-19 Monthly Budget performance
| | | | | |
| --- | --- | --- | --- | --- |
| Month | Final Budget (N) | Expenditure (N) | Budget Bal (N) | Achievement (%) |
| August | 33,158,684,451.92 | 5,003,328,024.88 | 27,306,892,580.56 | 15.09% |
| September | 33,371,238,789.32 | 4,694,724,472.77 | 28,559,198,146.04 | 59.99% |
| October | – | – | – | – |
| November | 33,371,238,789.32 | 5,582,329,115.68 | 28,238,366,842.15 | 68.60% |
| December | 33,407,297,388.32 | 6,772,248,224.93 | 27,067,204,932.90 | 20.27% |
Total PYTD: N10,283,826,061.38
Lagos state Covid-19 Monthly Budget performance
| | | | | |
| --- | --- | --- | --- | --- |
| Month | Final Budget (N) | PYTD (N) | Budget Bal (N) | Achievement (%) |
| November | 317,421,484,130.76 | 14,221,099,926.03 | 303,200,384,204.73 | 4% |
Total PYTD: N14,221,099,926.03
Ekiti state Covid-19 Monthly Budget performance
| | | | | |
| --- | --- | --- | --- | --- |
| Month | Final Budget (N) | PYTD (N) | Budget Bal (N) | Achievement (%) |
| August | 23,766,414,852.22 | 10,244,065,281.45 | 13,522,349,570.77 | 43.10% |
| September | 23,766,414,852.22 | 11,120,192,524.20 | 12,646,222,328.02 | 46.79% |
| October | 23,766,414,852.22 | 11,178,156,888.45 | 12,588,257,963.77 | 47% |
| November | 23,766,414,852.22 | 11,568,233,018.45 | 12,198,181,833.77 | 48.67% |
| December | 23,766,414,852.22 | 12,796,976,277.94 | 10,969,438,574.28 | 53.84% |
Total PYTD: N56,907,623,990.49
Ondo state Covid-19 Monthly Budget performance
| | | | | |
| --- | --- | --- | --- | --- |
| Month | Final Budget (N) | PYTD (N) | Budget Bal (N) | Achievement (%) |
| September | 25,004,768,157.72 | 12,211,063,845.11 | 12,793,704,312.61 | 48.83% |
| October | 25,004,768,157.72 | 12,715,037,747.00 | 12,289,730,410.72 | 50.85% |
| November | 25,004,768,157.72 | 13,827,361,641.64 | 11,177,406,516.08 | 55.30% |
| December | 25,004,768,157.72 | 22,947,003,730.90 | 2,057,764,426.82 | 91.77% |
Total PYTD                              N 61,700,466,964.65
Grand Total:                           N158,512,382,238.92