Cheque presented to Ya Naa
MTN Ghana has supported the King of Dagbon, Ndan Ya Naa Abukari II, towards the celebration of the 2023 Damba festival.
The support includes a cheque of GH¢15,000, Airtime worth GH¢ 1,000, and assorted drinks and water.
In addition to the presentation, MTN Ghana will support the traditional authorities in organizing the Inter-community Gala, Grand Durbar, and some social activities throughout the festive period.
A representative of MTN Ghana, Kwami Aseye Agude, who made the presentation at the Gbewa palace in Yendi, was optimistic that the support will help enrich the activities earmarked for this year's Damba celebration.
"We trust that our relationship which has existed over the years in different spheres will be deepened further as we continue to associate with you", he said.
According to him, over the years, MTN has placed special importance on the things that matter to the people of Ghana, and prominent among these is the celebration of festivals.
"Festivals reveal a lot about the Ghanaian society and are considered an integral part of Ghanaian culture. As a result, MTN has made it a duty to support many traditional authorities each year across the country and to keep alive the values and principles that identify us as Africans. As we all know, MTN is an African company, and we believe in African values and the African heritage".
He noted that to provide a distinct customer experience during the celebration, MTN has set up an experience center at vantage points to provide customers with an enhanced customer experience whilst they celebrate and encouraged the people of Yendi to visit the stands.
"Given the ongoing SIM registration exercise, we have a team to register customers who have their Ghana Cards. Mobile money registrations are also ongoing for free. To appreciate our customers and take critical feedback from them, MTN has set aside a whole month dubbed Customer Service Month. There would also be Cyber Security Awareness Month and MoMo fraud education all in the interest of our cherished customers".
"On the occasion of the Damba celebrations, we wish the chiefs and people of the Dagbon long life, peace, and prosperity. We look forward to a sustained partnership with you as you showcase your rich culture and traditional values through this festival celebration".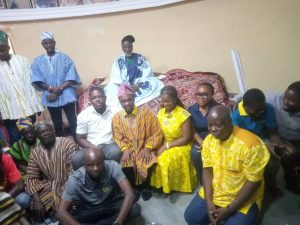 MTN Ghana officials with Ya Naa at the Gbewa palace in Yendi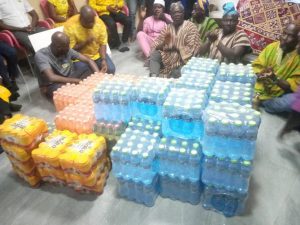 BY Eric Kombat, Yendi