Secret Reporters
Mr. Alli Habibu, a heavy truck driver, has filed a lawsuit against Ajuba Nigeria Limited, his former employer, at the National Industrial Court of Nigeria. The suit, bearing the number NICN/LA/87/2021, alleges that the company's negligence led to a life-changing incident during one of his work journeys.
According to the amended statement of facts, on July 17, 2020, the defendant deployed Mr. Habibu and his co-driver, Mr. Alex Lukpata, to transport an excavator machine to Calabar, Cross River State. As per company policy, the drivers were left to find rest wherever they were when nightfall occurred during their journey.
Tragically, while parked along Atimbo road in Calabar, the drivers were attacked by a man wielding a machete. In an attempt to defend himself, Mr. Habibu suffered a horrifying injury, losing his left arm from the wrist region. The attackers' motives are still unclear, but the incident occurred due to the unsafe parking situation that the company's policy forced upon the drivers.
Upon being rushed to the University of Calabar Teaching Hospital, Mr. Habibu's left hand could not be reattached due to the extent of damage. He had to undergo multiple surgeries and spent four months at the hospital for treatment, bearing the medical expenses himself.
When Mr. Habibu demanded compensation from Ajuba Nigeria Limited, they terminated his employment, citing his engagement of a lawyer to seek compensation for his severe injury as the reason. The Defendant's response letter further stated, "WE DON'T GO TO COURT AND STILL BE FRIENDS."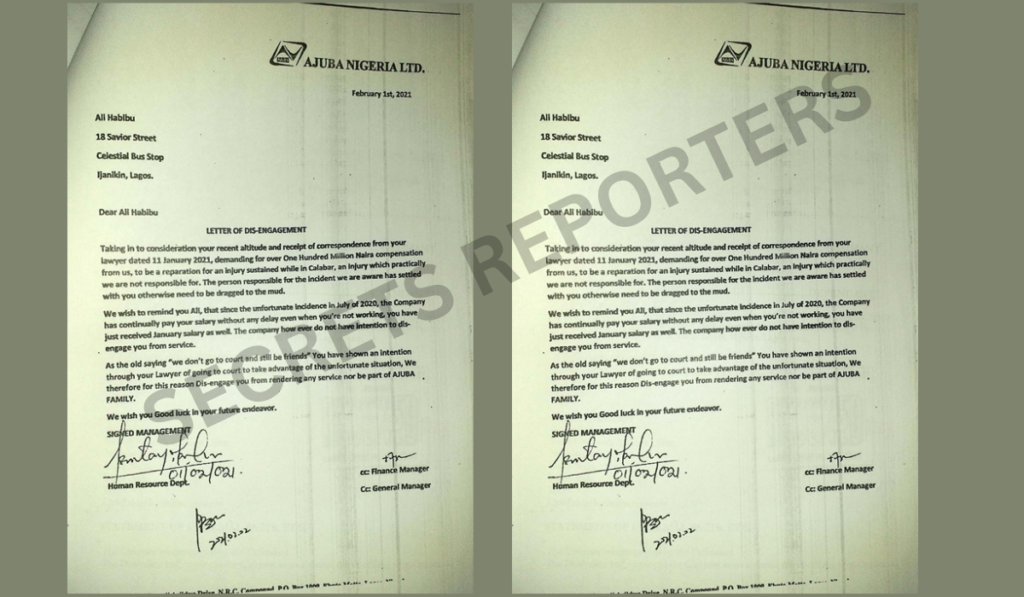 In response to the suit, Mr. Habibu sought some reliefs which include, an order for Ajuba Nigeria Limited to pay him One Hundred Million Naira (N100,000,000.00) as compensation for the loss of his left arm; an order for the company to procure a suitable artificial hand that can be fixed to his left arm; an order for the Defendant to pay 10% interest per annum on the compensation sum from the time of judgment until fully paid; and cost of engaging lawyers and maintaining the action, assessed at N10,000,000.00 (Ten Million Naira).
Mr. Habibu's lawyer, Jude Akuetiemhe of JOA Legal Practice, asserted that the company's negligence and disregard for the drivers' safety directly caused the unfortunate incident. He further emphasized that the Defendant lacked a proper defense against the claims.