This is to inform all full-time students, (ND & HND) that, all Second Semester 2022/2023 Session Examination earlier scheduled for Friday, 27th October, 2023 have been postponed by Management.
The postponement became necessary to enable Staff and Students of the Polytechnic attend the burial of Late Dr. Rosemary Young Godwin, an Academic Staff in the Department of Office Technology and Management on Friday, 27th October, 2023.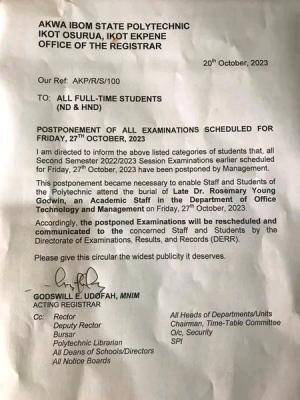 Accordingly, the postponed Examinations will be rescheduled and communicated to the concerned Staff and Students by the Directorate of Examinations, Results and Records (DERR).
Please give this circular the widest publicity it deserves.