Apple announced its first augmented reality headset today, the Apple Vision Pro.
Apple CEO Tim Cook has referred to it as the first Apple product you look "through, and not at." Resembling a scuba diver's mask or a pair of ski goggles, the new hardware is set to release in 2024 for $3,499 via Apple and authorized Apple retailers — a whopping $3,100 more than the 4.7-star-rated Meta Quest 2 virtual reality headset and $3,000 more than the yet-to-be-released Meta Quest 3.
Here's what you need to know about Apple's newest gadget.
---
Top VR headsets in this article (available now):
Meta Quest 2 virtual reality headset, $299 (reduced from $399)
PlayStation VR 2 headset, $550
---
What makes the Apple Vision Pro different (and expensive)
The Apple Vision Pro is a new kind of AR headset that's clearly meant for more hardcore users, including developers, content creators and other creative types (or maybe billionaires). It eschews controllers for navigation via your hands and eyes. You can browse your favorite apps by way of your eyes and hands. Tap to select, flick to scroll and issue voice commands to interact with your favorite programs.
The headset boasts better-than-4K resolution for each eye. The headset also features spatial audio, creating a truly immersive 3D experience. Want to watch your favorite movie on the big screen in a simulated theater? The Apple Vision Pro makes it possible. 
Apple will release a number of its own Apple Immersive Videos — 180-degree, 3D recordings that bring you to far-off places you've never been before. You can make your own content to share with the headset, too. The Apple Vision Pro captures spatial photos and spatial videos in 3D with the press of a button.
Apple Vision Pro also includes a new feature called EyeSight, which keeps you from being "isolated" from others around you. The headset will put your eyes on display to others, with a glowing screen to indicate whether you're available or not. With the help of passthrough video, you can also see what's going on in the real world beyond your apps and virtual goings-on, while also manipulating and inspecting 3D objects in real space.
Given its astronomical price point, the Apple Vision Pro will likely be a difficult sell to most casual consumers despite its impressive hardware. Most gamers will be more than satisfied with a competing VR headset, such as the Meta Quest 2 ($300), PlayStation VR 2 ($550) or the coming Meta Quest 3 ($500). These options offer robust libraries of games and VR apps to enjoy today.
Best Apple Vision Pro alternative: Meta Quest 2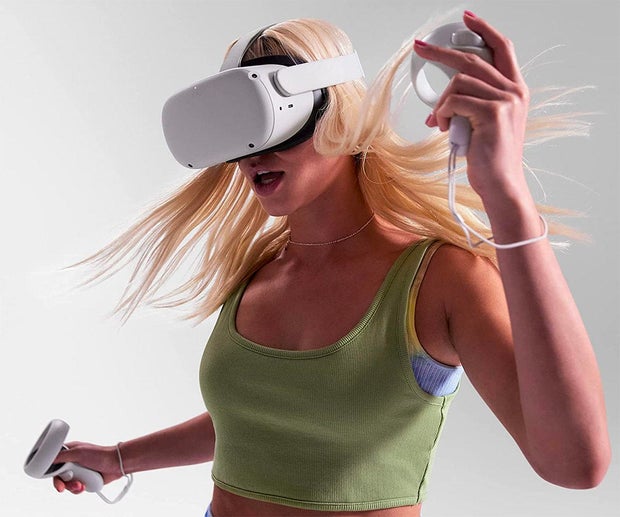 For most consumers, the newly-reduced Meta Quest 2 virtual reality headset is the best and more immediate choice. After Meta revealed the Meta Quest 3, set for launch this fall, the previous model's price was slashed $100 to make it more accessible to all. (We suspect the well-timed price cut was designed to help it compete with Apple's newly-announced Vision Pro.)
The Meta Quest 2 is now priced at $300, a nice discount from its original $400 price tag. It's widely available at most retailers that carry VR headsets, including Amazon.
Meta Quest 2, $300 (reduced from $400)
---
Related content from CBS Essentials