The Management of Cross River University of Technology has noted that so many Students of the University have not fulfilled their financial obligations to the Institution. Specifically, First Year Students as well as the Continuing Students are yet to pay up their School Fees. Also, many Year One Students are yet to pay for the Matriculation Ceremony. This situation is having very negative financial impact on the administration of the University.
Consequently, Management has directed as follows: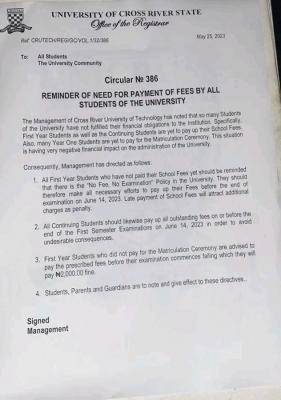 1. All First Year Students who have not paid their School Fees yet should be reminded that there is the "No Fee, No Examination" Policy in the University. They should therefore make all necessary efforts to pay up their Fees before the end of examination on June 14, 2023. Late payment of School Fees will attract additional charges as penalty.
2. All Continuing Students should likewise pay up all outstanding fees on or before the end of the First Semester Examinations on June 14, 2023 in order to avoid undesirable consequences.
3. First Year Students who did not pay for the Matriculation Ceremony are advised to pay the prescribed fees before their examination commences failing which they will pay #2,000.00 fine.
4. Students, Parents and Guardians are to note and give effect to these directives..
Signed
Management