Sequel to the unlawful increment of both Faculty and Departmental Levies without following the laid down rules for such to come into effect through a well constituted congress.
*All Departments and Faculties are hereby advised to reverse back to status-quo of the conventional levy price of N500 until the needful is done.* In the same vain, All Faculties and Departments are mandated to release a memo stating the date for the refund. *All funds collected above the stipulated amount should be returned to those that have paid.*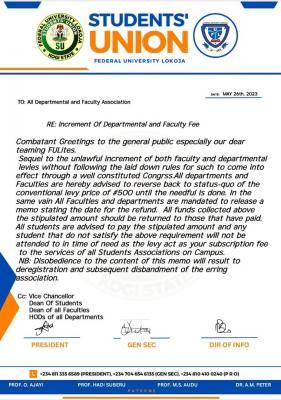 All students are advised to pay the stipulated amount and any student that do not satisfy the above requirement will not be attend to in time of need as the levy act as your subscription fee to the service of all Students Association on Campus.
NB: Disobedience to the content of this memo will result to deregistration and subsequent disbandment of the erring association.