President Nana Addo-Dankwa Akufo-Addo has commissioned the €85 million Elmina Fishing Port rehabilitation and expansion project in the Komenda-Edina-Eguafo-Abrem (KEEA) Municipality of the Central Region.
Completed in 30 months, the project has a docking space and deep marine access to ensure the durability and sustainability of the harbour, and comes with marine and civil infrastructure including a south breakwater of 450 meters in length, a large basin of 65,000m² with dredged depths between three and five meters, and a quay wall of 400 meters.
The construction of the biggest fishing harbour in the region is expected to boost tourism, the salt industry, and extend the capacity of the fishing industry in the Central region.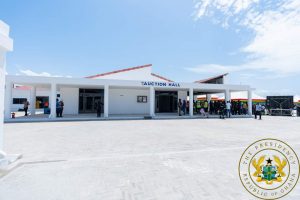 The fisheries sector currently contributes about 11% of the country's GDP and 30% of the workforce, directly and indirectly.
Commissioning the facility, President Nana Addo Akufo-Addo lauded the traditional authorities and the people of Elmina and various contractors for cooperating to work assiduously to meet various operational requirements.
He said the facility represented a significant milestone in empowering the people through job creation to compliment the work of the Takoradi and Tema harbours.
Besides, President Akufo-Addo lambasted former President John Dramani Mahama for describing the project as a political gimmick to play away the people of Elmina and the Central Region at large.
He pointed out that the record completion of the facility was a manifestation of the government's pledge to invest in the fisheries sector to improve the livelihoods of all players in the sector.
The President noted that other landing beaches along the coast are at various stages of completion, while bemoaning the negative impact of illegal, unregulated, and unreported fishing activities and urged the fishers to desist from such activities.
For his part, Nana Kodwo Conduah VI, the Omanhen of Edina Traditional Area, commended the government for completing the project on time.
"I wish to propose that this harbour is named "Nana Addo Habour" and we also wish to bestow on you a chieftaincy title "Nana Begyedinaman I" for your support for the community" he indicated.
He further urged artisanal fishermen to comply with the government's planned closed season this year and appealed to the government to regulate the activity of saiko to support the livelihoods of fishers.
Through the multifaceted investment in the sector, the President was optimistic about increasing the income of fishers and cutting down post-harvest loses to reduce fish imports in the medium to long term.
The government pledged more investment in the area to improve livelihoods.
By Vincent Kubi