Celtics
White's buzzer-beater saved the Celtics' season. He made NBA history in the process.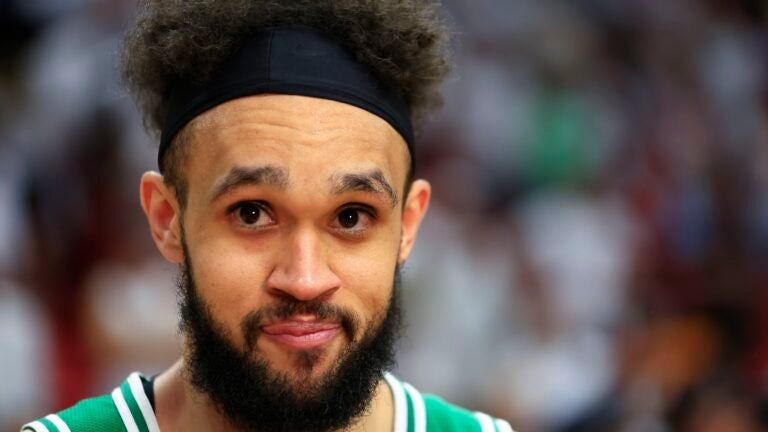 Derrick White had a putback for the ages on Saturday. It was also a historically rare feat.
You likely know the story by now. But in case you need a refresher, White crashed the boards after his inbounds pass to Marcus Smart with three seconds left. Smart's shot for the win rimmed out, however, White was right there to get the tip-in as time expired to give Boston a 104-103 win in Game 6 to force a Game 7.
Prior to White's putback, Jimmy Butler made three free throws to give the Heat a 103-102 lead and put the Celtics on the absolute brink of elimination.
With the Celtics facing elimination at the moment White went in for the putback, his buzzer-beater was the second of its kind in NBA history. While it's the sixth buzzer-beater in NBA history for a team in an elimination game, it's just the second buzzer-beating shot in NBA history where the team facing elimination trailed prior to the shot, according to ESPN Stats & Info.
The other player to make a buzzer-beating shot under such circumstances was Michael Jordan, who made an off-balance mid-range jumper in the deciding Game 5 of the Chicago Bulls' first-round series against the Cleveland Cavaliers in 1989.
With White's shot, the Celtics also made history. They became the fourth team in NBA history to force a Game 7 after trailing 3-0 in a series. They're the first of those such teams to host Game 7, which will take place on Monday night.
There were some other statistical rarities from the Celtics' thrilling Game 6 win.
Boston, who has been reliant on its 3-point shot falling to help win games this season, shot just 7-for-35 (20 percent) from deep on Saturday, which was the Celtics' fewest made 3-pointers and their worst 3-point percentage in a game this season. Prior to last night's game, teams that made 20 percent or fewer of their 3-point shots went 14-66 this season, according to ESPN.
Furthermore, the Heat made 14-of-30 (46.7 percent) 3-point shots in Game 6. Prior to last night, there were 23 games this season where a team shot 20 percent or worse from deep while their opponent shot 40 percent or better from deep. The team that shot 20 percent or worse from deep won just one of those 23 games, according to ESPN.
The Celtics' ability to break through under unusual circumstances sets up a Game 7 in the Eastern Conference finals for a second straight season with the Heat. It's the first time that two teams will play each other in a Game 7 in consecutive seasons since 1994-95 and it's the sixth time it's ever happened, ESPN Stats & Info found.
Sign up for Celtics updates????
Get breaking news and analysis delivered to your inbox during basketball season.