It's an exciting time to be a Brazilian women's football journalist working in the UK and I am loving every second of it.
I wrote my first piece about women's football nearly nine years ago as an intern at a local website called Bahia Notícias. It was about the challenges to build competitive squads for the second Campeonato Brasileiro de Futebol Feminino. The difficulties were similar to what we see now: little investment, low salaries for players and inequalities between the structures and support provided for men's and women's teams.
It may seem as if nothing has changed, yet women's football in Brazil has come a long way. The Brasileirão is becoming more and more competitive and is feeding players to the the national team. Half of the players called up for Thursday's Finalissima against the Lionesses play for Brazilian clubs: Corinthians, Ferroviária, Palmeiras, Santos, São Paulo and Flamengo have representatives in Pia Sundhage's squad.
There are also developments in youth football: the Under-20 national team had their best result in the World Cup last year, finishing third, and are showing promise. One of the players from that squad, the 17-year-old Aline Gomes, is expected to make her debut in the senior team soon and recently became the youngest player to score a hat-trick in the Brasileirão Feminino.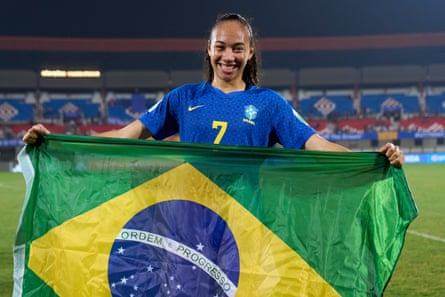 The lucky 80,000 fans who endured hours in a virtual queue to buy tickets for Thursday's game at Wembley will see a Brazil team in transition, featuring many younger players who may be about to go to their first World Cup. In London and against Germany in Nuremberg next Tuesday they will acquire experience with tough games against two of the best teams in the world.
And, of course, there is Marta. Sundhage says Marta has returned even stronger after an ACL injury that kept her out for 11 months. Marta is 37 but still a key piece of this team. It is hard to imagine how women's football in Brazil would be without her – her influence on and off the pitch has had an effect on every player in the squad.
Everything is not rosy, however. In 2021 Formiga returned to Brazilian football after leaving Paris Saint-Germain. She wanted to play her last seasons at São Paulo, a club she first joined in 1997 and where she won her first league title. But a couple of weeks ago she accused the club, which she left at the end of last season, of providing very little support for injured players, dismissing the squad's demands for improvements and even limiting the number of shirts they could wear. São Paulo deny the claims and say the players have access to sufficient healthcare and dispute Formiga's claims about the shirts.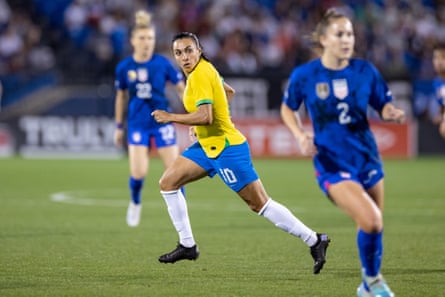 However, if one of the biggest football stars in the country feels she has been let down by her club one wonders how big the problem is for lesser-known players at the top as well as further down the pyramid. "I'm thick-skinned, I'm used to it, so it didn't hurt me," said Formiga. "But I saw the girls suffering and couldn't imagine that this still was happening somewhere."
Every girl in Brazil should be able to enjoy their football. They should be able to dream about being the best player in the world, but if they just want to have fun playing they should be able to do that. And these days at least they can be inspired. They can dream about being on the pitch, in the stands, on the radio or TV. For decades, Brazil, the country of football, tried to push them away from the game. But this, too, is changing.
This is why I'm walking on a cloud this week. Progress is being made. They are not where England are but they are not shying away from the problems. The sight of a full Wembley for the women's national team will be awe-inspiring – and they will feel hope that one day it will happen back home too.
Talking points
Superclásico in Argentina: Last Sunday's superclásico between Boca Juniors and River Plate in Argentina's first division was attended by 12,500 people. Boca's Gladiadoras won 3-0 with goals from Andrea Ojeda, Mariana Gaitán and Estefanía Palomar. Ojeda's celebration with the fans is worth watching.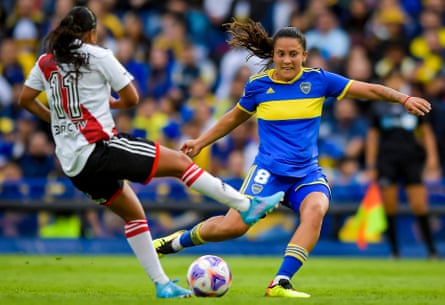 Taça da Liga in Portugal: Benfica won their third Portuguese League Cup in four years after beating Braga 3-1 on Saturday. In an exciting game, Caroline Kehrer opened the scoring for Braga before Carole Costa and Nycole Raysla (twice) scored for Benfica.
Switzerland to host Euro 2025: England will defend their European title in the Alps after Switzerland beat a combined bid from Denmark, Finland, Norway and Sweden to be named as the next Euros hosts. Basel, Bern, Geneva, Zürich, St Gallen, Sion, Lucerne and Thun are the eight expected host cities, with no new stadiums planned.
Quote of the week
"She was a technician, she was a goalscorer [and] she was everywhere on the pitch. She is a huge credit to Brazil, she is a huge credit to women's football and someone that has left a massive legacy on the game." England's Alessia Russo praises Marta's legacy before the women's Finalissima.
Recommended viewing
Roma called Benny Glionna's goal against Milan a "punishment" and it makes sense – I wouldn't want to try to defend that rocket.
Still want more?
Lauren Hemp and Lucy Parker have praised England's switch to blue shorts to address period concerns in a week when the World Cup co-hosts, Australia and New Zealand, unveiled kits that directly address period anxiety among players.
Catch up with the Women's Football Weekly podcast, which includes reflections on last weekend's WSL fixtures and looks ahead to the international break.
Follow our minute-by-minute report of Thursday's England v Brazil Finalissima (7.45pm BST kick-off) at theguardian.com/football.
Have a question for our writers – or want to suggest a topic to cover? Get in touch by emailing [email protected] or posting BTL.