Boston Marathon
World-record holder Eliud Kipchoge headlines a decorated field filled with former Boston Marathon champions.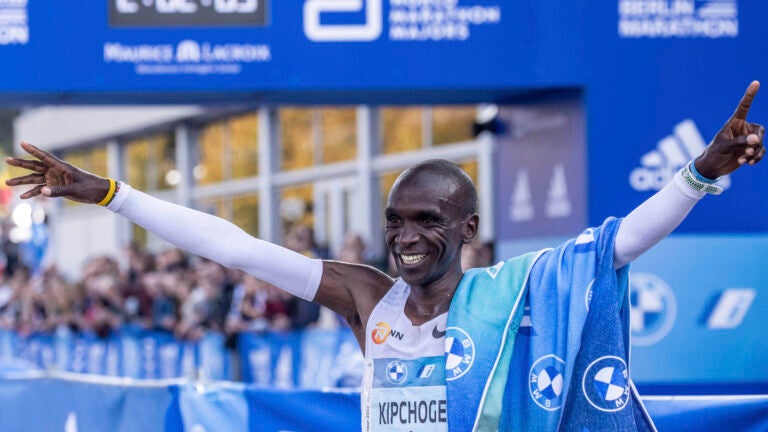 Eliud Kipchoge, a two-time Olympic gold medalist from Kenya who holds the world record for fastest marathon time, will run the Boston Marathon for the first time this year.
In order to win, he'll have to beat three former champions, including the two most recent winners.
The women's field also boasts three past Boston Marathon champions, along with a pair of accomplished newcomers hunting for an upset.
The race has 30,000 registered participants, which is the most since 2019. It is also expected to be one of the most talented fields the race has ever produced, according to BAA director of professional athletes Mary Kate Shea.
"This will be the fastest and most decorated Boston Marathon across all of our divisions in race history," Shea told The Boston Globe in January.
Here are 10 elite runners to keep an eye on during the race.
Women
Gotytom Gebreslase
Country: Ethiopia
Age: 28
Accomplishments: Gebreslase won the 2022 World Atheltics Championship in Eugene, Oregon with a time of 2:18:11. She also won the 2021 Berlin Marathon and finished third at the 2022 New York City Marathon.
Desiree Linden 
Country: United States
Age: 39
Accomplishments: Linden represented Team USA during the Olympics twice. She finished seventh at the 2016 Olympics in Rio, and she did not finish in 2012. After contemplating retirement, Linden won the Boston Marathon in 2018.
Edna Kiplagat
Country: Kenya
Age: 43
Accomplishments: Kiplagat is a two-time Boston Marathon champion, with wins in 2017 and 2021. She's also got a pair of IAAF World Championship victories in 2011 [Daegu] and 2013 [Moscow]. After three consecutive runner-up finishes, Kiplagat broke through and won the London Marathon in 2014.
Atsede Baysa
Country: Ethiopia
Age: 36
Accomplishments: Baysa, the 2016 Boston Marathon champ, has also won the Chicago Marathon in 2012 and 2016. She won the Paris Marathon in 2009 and 2010.
Lonah Chemtai Salpeter
Country: Israel
Age: 34
Accomplishments: Chemtai Salpeter's first win at a World Marathon Major came in 2020 at Tokyo. She also won gold at the European Athletics Championships in Berlin in 2018. She was a runner-up at the 2022 New York City Marathon, and received a Bronze medal at the 2022 European Athletics Championships in Munich.
Men
Eliud Kipchoge
Country: Kenya
Age: 38
Accomplishments: Kipchoge broke his own world-record in 2022, finishing the Berlin Marathon in 2:01:09. He also completed the 2019 Vienna Marathon in less than two hours, but his time of 1:59:40 is not counted as an official world record because it was an open race and some race standards were not met.
One of the most decorated marathon runners of all-time, Kipchoge has won gold at the Olympics, the World Championships, the World Cross-Country Championships, and the World Marathon Majors over the years.
Evans Chebet
Country: Kenya
Age: 34
Chebet has five marathon wins since 2019, including victories in Buenos Aires, Lake Biwa, and Valencia.
Benson Kipruto
Country: Kenya
Age: 32
Accomplishments: The 2021 Boston Marathon champion set a personal best last October during his win at the Chicago Marathon. His time of 2:04:24 was the third-fastest winning time in the Chicago race according to World Athletics.
Lelisa Desisa
Country: Ethiopia
Age: 33
Accomplishments: Desisa has won the Boston Marathon twice, first in 2013 and then again in 2015. He later won the New York Marathon in 2018, and the 2019 World Games in Doha. He famously donated his 2013 Boston Marathon gold medal to the City of Boston in honor of the victims of the bombing that happened at the race that year.
Gabriel Geay
Country: Tanzania
Age: 26
Accomplishments: According to The Boston Globe, Geay's personal best of 2:03:00 set at the Valencia Marathon a few months ago is the third-fastest time in the field. Geay has a BAA win under his belt, with a victory in the 2018 BAA 10k. He finished fourth in the 2022 Boston Marathon.
Sign up for the latest Boston Marathon updates
???? Everything you need to know about Marathon Monday, delivered to your inbox.