While a bevy of movie stars experienced the glitz and glamour of Hollywood's biggest night on Sunday, one mega-famous host had a very different experience. Ryan Seacrest was forced to stop at a gas station to get ready for a night of chatting to the stars on the 'champagne' carpet.
The Live With Kelly and Ryan host shared the moment he and his producer pulled into the gas station in Los Angeles on his Instagram stories.
Seacrest filmed producer Lori Schulweis running alongside the SUV as he asked her: "Are we at the Oscars and getting off at a gas station?" When the producer responded in the affirmative, Seacrest joked: "Ahoy, you know you've made it when…"
He captioned the post: "A glamorous Oscars arrival."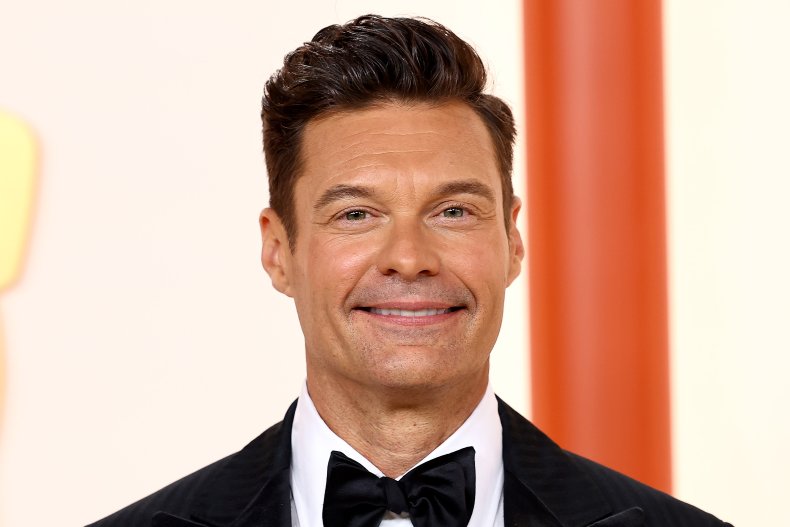 In a subsequent Instagram story, Seacrest showed off his black Labrador, Georgia, who had joined him in the car and got out at the gas station.
"It's Oscar Sunday," he said to the pooch before adding in jest, "Have we got your credential?"
Despite needing to get ready, Seacrest stopped to greet some fans from Mexico and pose for a selfie before heading into the gas station store to buy some snacks.
Later in the evening, the TV star shared behind-the-scenes footage of him and his co-host Kelly Ripa tucking into the snacks and posing for photos with different celebrities.
The Oscars red carpet might be one of the last times the co-hosts work together after Seacrest announced he would be departing the daytime talk show.
Seacrest has co-hosted the New York City-based ABC show alongside Ripa since 2017, but revealed in February he was leaving so he could move back to back to Los Angeles for the American Idol live shows this spring.
Ripa's husband, Mark Consuelos, 51, was announced as Seacrest's permanent replacement.
"Working alongside Kelly over the past six years has been a dream job and one of the highlights of my career. She has been an amazing partner, friend, and confidant, and although we will always be a part of each other's lives, I will miss our mornings together," said in a statement to Variety at the time.
He said: "I also want to thank [executive producer] Michael Gelman and the entire staff and crew—we've made memories to last a lifetime, met some of the most incredible people, and had the warmest welcome into the homes of so many viewers across America.
"It's been a memorable ride and now I'm excited to pass the baton to Kelly's 'real' husband, Mark."
Ripa first hosted the talk show in 2001 with Regis Philbin with whom she worked for 10 years until he stepped down from the role in 2011.
Michael Strahan was Ripa's next co-host from 2012 until 2016 when he left to join the Good Morning America lineup.