President Joe Biden's daughter-in-law received $25,000 from a Chinese company through a conduit, a new House Oversight Committee memo has revealed, raising questions about the extent of the Biden family's involvement in Hunter Biden's business dealings.
Following a recent subpoena for bank records, the committee majority staff claimed that a family associate, John Robinson Walker, received a $3 million wire from Chinese company State Energy HK Limited in March 2017. Over the following three months, bank records show a series of disbursements were made from Walker's account to Biden family members, including payments totaling $35,000 for Hallie Biden, the memo said.
It is not clear where the additional $10,000 came from.
The disclosure marks just the beginning of the House Oversight Committee's investigation of Hunter Biden since the Republicans took control of the House earlier this year, and promises to become a source of all-consuming focus for some that may damage his father's re-election chances in 2024.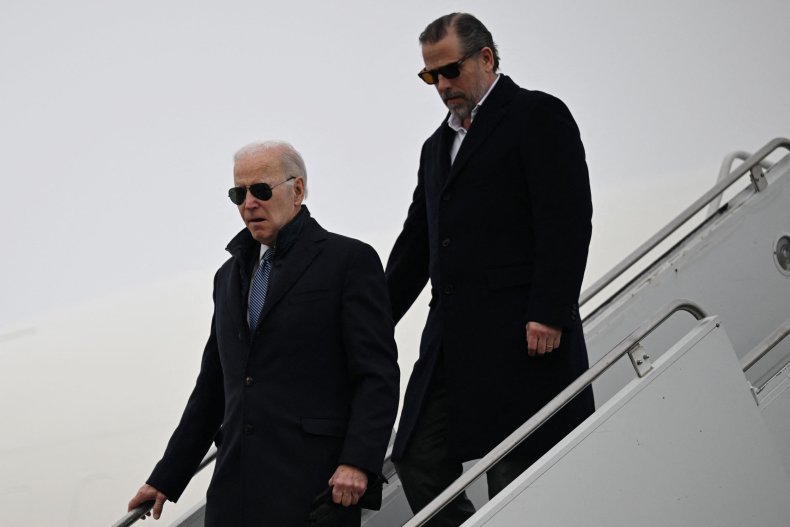 Hallie Biden—the widow of Beau Biden, who died of brain cancer in 2015—became Hunter's lover between 2016 and 2019, around the time the payments were being made.
The memo, released on Thursday, details a series of bank transfers from Robinson Walker LLC totaling nearly $1.07 million to companies it claimed were associated with Hunter and James Biden, the president's brother, as well as another account identified only as "Biden." Included on that list was a $25,000 payment to Hallie, on March 20, 2017.
"The Committee is concerned about the information revealed in these bank records," it wrote, adding it had questions over why the energy firm had waited until Joe Biden was no longer vice president, why the payments went through a conduit, and why Hallie Biden specifically received payments.
"The Oversight Committee is concerned about the national security implications resulting from President Biden's family receiving millions of dollars from foreign nationals," James Comer, the House Oversight Committee's Republican chair, stated. "We will continue to follow the money trail and facts to determine if President Biden is compromised."
Hunter Biden's legal team confirmed the authenticity of the payments, but played down their seriousness.
They responded in a statement to multiple outlets saying that he was "a private citizen with every right to pursue his own business endeavors," and "joined several business partners in seeking a joint venture with a privately-owned, legitimate energy company in China."
"As part of that joint venture, Hunter received his portion of good faith seed funds which he shared with his uncle, James Biden, and Hallie Biden, with whom he was involved with at the time, and sharing expenses," a spokesperson said.
"The accounts so dramatically listed by Rep. Comer belonged to Hunter, his uncle and Hallie—nobody else," they said.
On Thursday, White House spokesperson Ian Sams said that Comer "has now decided to go after Beau's widow."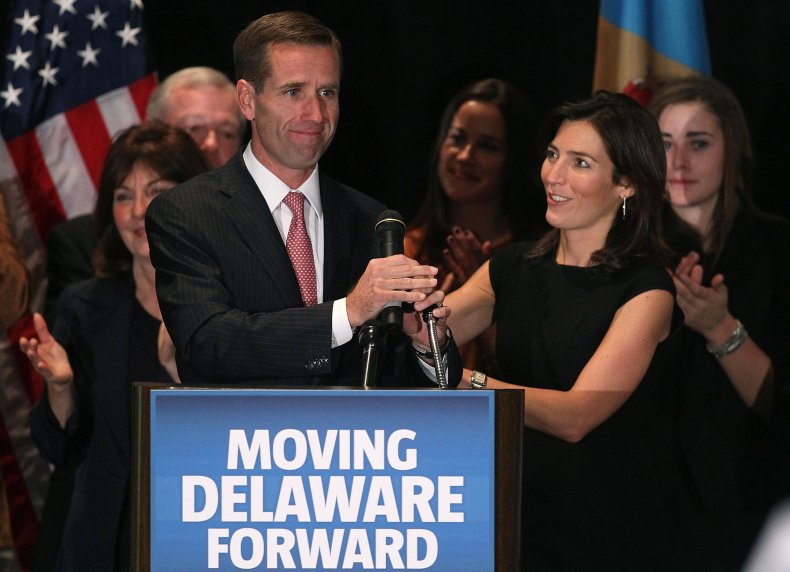 "Instead of bizarrely attacking the president's family, perhaps House Republicans should focus on working with the president to deliver results for American families on important priorities like lowering costs and strengthening health care," he added.
Newsweek reached out via email to Hallie Biden for comment through the Beau Biden Foundation, of which she is the chair of the board.
Hunter Biden has been dogged by allegations of shady business dealings since 2019, when Donald Trump and his allies pushed claims Joe Biden was involved in alleged corruption relating to his son's business affairs in Ukraine.
In the run-up to the 2020 election, the New York Post published emails it claimed had been found on Hunter Biden's laptop relating to his dealings overseas, which further fueled allegations of impropriety. Hunter Biden's legal team has since launched legal challenges over the disclosures.
The House Oversight Committee made the Biden family's financial records an investigative priority when the GOP gained a majority in November's midterm elections.
While they have argued they are acting in the interest of national security and the integrity of public office, Democrats have contended that the investigation was part of an effort to hurt Joe Biden's voter appeal. According to the latest polls Biden has an edge over likely Republican rivals for the next presidential bid.
"Chairman Comer's memo proved once again that, after four years of investigations by Senate and House Republicans into Hunter Biden, they have found no connection to the president of the United States or indeed any government official at all," Jamie Raskin, the committee's minority leader, told Newsweek on Thursday.