If you're looking to upgrade your sleep setup, you may have come across the term "platform bed," and wondered what exactly it means. In this article we'll go over everything you need to know about this popular type of bed base, and help you figure out if it's the right choice for you.
It's easy to overlook your bed frame when shopping for a new mattress, but the two need to complement each other for maximum comfort. For many people, platform beds do just that with a built-in foundation that's stable and well-ventilated. It is also affordable and available in a range of designs. Some even have built-in drawers and shelves for storage.
Of course, not always the popular option will not be suitable for everyone. The base bed may be the best bed frame for a modern mattress because it provides excellent support. However, the natural firmness of a platform bed can make some of the best mattresses uncomfortable to sleep on. And while the platform bed's low profile may look stylish, it's not practical for anyone with mobility issues.
Below, we'll dive into the pros and cons of platform beds and answer the most frequently asked questions so you can decide if it's right for you. Note that if you sleep on a traditional innerspring mattress, you may want to go for a box spring instead, though a platform bed isn't entirely out of the question for you, either, if you want a more modern look for your bedroom. Read on to find out more.
What is a platform bed?
A platform bed can be made of wood, metal, and/or upholstery, but crucially it features a stable surface in the middle—either wood slats or a solid platform. By contrast, a standard bed frame has no built-in support, and will require someone to purchase a separate foundation—usually a box spring, but it may also be a flat surface such as a bottom board. Platform bed designs range from simple elegance to ornate, with design elements such as headboards and footstools. Most platform beds are between 7 and 12 inches in height.
Platform beds are generally more affordable, versatile, and durable than their traditional box spring counterparts. They can also be functional – many platform beds include built-in storage drawers to help reduce clutter and make your room feel larger. Individuals with mobility issues can find it difficult to get in or out of such a low profile bed.
What are the advantages of a platform bed?
Are you wondering if a platform bed is the right choice for your sleeping setup? Here are five reasons why you should consider bringing one home…
1. It is compatible with (almost) all types of mattresses.
You can pair a platform bed with any modern mattress in a box. Most mattresses today are firm enough that you can sleep directly on the floor, without a bed frame. We don't necessarily recommend this, though (here are the pros and cons of placing a mattress on the floor), and a platform bed will provide optimal stability and weight distribution while you sleep.
While you can pair an inner mattress with a platform bed, in this case you'll want to add a box spring (a fabric-wrapped frame that sits between the base and the mattress, and is filled with a layer of wire coil). Adding a box spring to your setup will absorb shock and enhance softness.
A platform bed with well-spaced slats (or a solid perforated foundation) allows air to flow freely so heat is not trapped in the frame. Thus, if you are a hot sleeper, a platform bed can help reduce uncomfortable night sweats. (If this is too much of an issue for you, you'll need to add a specialized cooling mattress.)
Another benefit of this built-in ventilation system is that it will also prevent mold and mildew build-up. For added protection, use a mattress protector that wicks away moisture, protects against spills and can be popped regularly in the washing machine for easy cleaning.
3. It provides great support for heavy people
The platform bed is capable of supporting up to 1,500 lbs. The exact weight limit varies with individual builds, so read the spec sheet carefully. If you have a heavy build, go for a platform bed with a solid base against the slats, as this will provide stronger support. Of course, you'll also want to make sure your mattress is breathable, too (you'll find our recommendations in our guide to the best mattresses for heavyweights).
4. You can choose from a wide range of designs
Platform beds come in a range of styles, so you'll be able to find something that matches your space and aesthetic. For a minimalist aesthetic, you can opt for a simple metal or wood frame (eg Emma platform bed (Opens in a new tab)) or a simple upholstered design (see our Nectar platform bed frame review).
There are also plenty of designs that make a statement, if you like to use your bed as a focal point for your room decor. in the United States, Saatva makes a group (Opens in a new tab) From platform bed frames with interesting headboards, or in the UK, we're fans of Simba bases (see our Simba Sirius bed base review). (The inclusion of a headboard and/or footboard can make a platform bed feel like a "standard" bed, but the difference is whether or not that support is actually built in.)
There are also platform beds that blend style and function by including storage space underneath. the BRIMNES platform bed frame from IKEA (Opens in a new tab)For example, it has four drawers and comes in several colors.
5. It is more economical than the traditional bed
Expect to pay as little as $100 / £80 for a basic platform bed, with more sophisticated designs fetching around $2,000 / £1,800. Herein lies the advantage of having so many design options at your disposal. (Not having to purchase a separate box spring will also save you money upfront.)
In the long run, platform beds are an economical choice because they are built to last and are able to support all types of modern mattresses. When you decide to replace your mattress, you should be able to keep your existing platform bed.
What are the disadvantages of a bed platform?
The platform bed has a lot to offer, but unfortunately, it's not for everyone. Here are three reasons why it may not be the right type of bed frame for you…
1. It's too low for people with mobility issues
Platform beds are known for their low, space-saving profile—most sit between 7 and 12 inches off the floor. (By comparison, a standard bed frame is 25 inches wide.) For individuals who struggle to easily get into or out of bed, a platform bed can exacerbate this problem.
However, there are possible solutions. Choosing a thicker mattress will add height to the platform bed so that it is easier to lie down or lie down. You can also use risers on your bed or mattress topper for a few extra inches.
2. Some sleepers will find it too firm
A platform bed provides exceptional support, yet oozes firmness. If you're petite and/or like to rest on your side, sleeping on a platform bed can feel like you're lying on a rock. It can also create pressure points, which lead to joint or back pain.
If you insist on a platform bed, choose one with slats on top of a hard surface, as you'll be able to adjust them according to your comfort level. You'll also want to consider using a soft mattress or a plush memory foam mattress to soften the platform's innate stiffness.
3. It is inconvenient for people who move a lot
Platform beds may be sleeker and more streamlined than traditional box springs—but most are also quite heavy, weighing in at 200 pounds. If you move house frequently or like to rearrange your space on a whim, getting a platform bed will make it a much more complicated task.
Frequently asked questions about the platform bed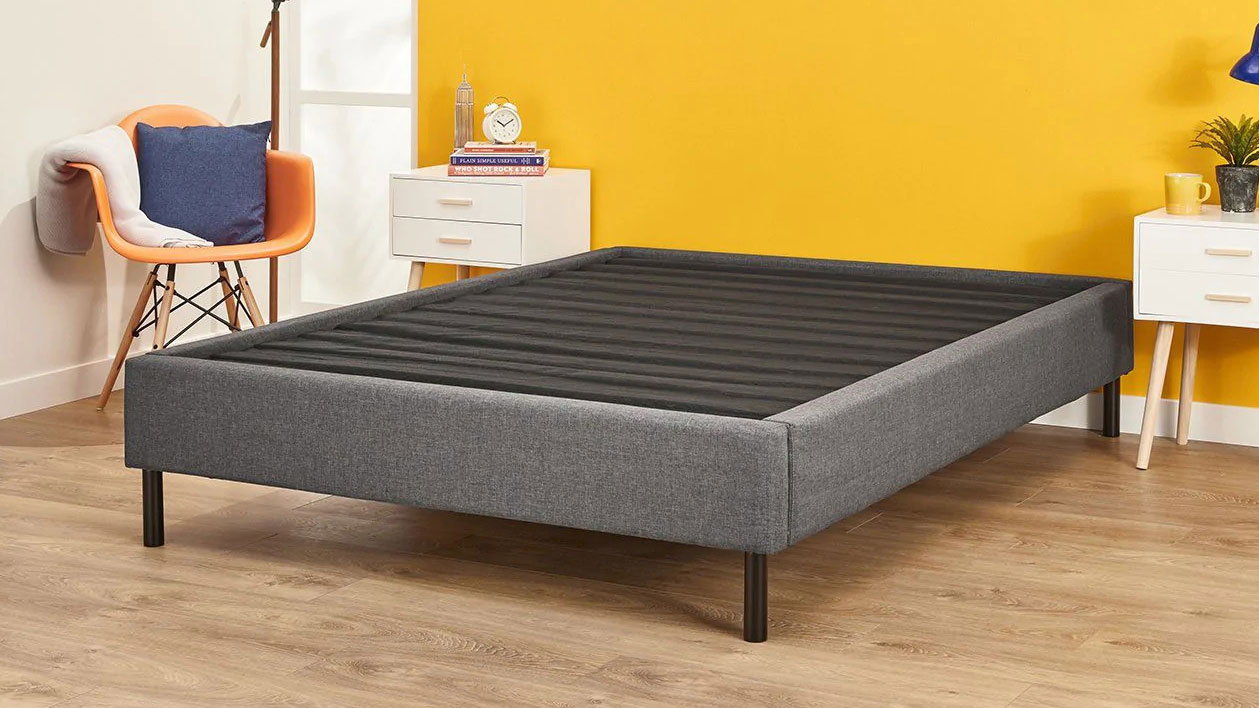 Can you put a regular mattress on a platform bed?
You can put any type of mattress on a platform bed, including a regular innerspring mattress. Although a box spring is not required, it would be best to use one on a platform bed with an innerspring mattress for better shock absorption and shape definition. Also, some regular mattresses may require a box spring, depending on the terms of the warranty.
Do platform beds need a box spring?
Platform beds have built-in support, so a box spring isn't necessary. However, you can add a box spring if you sleep on a traditional innerspring mattress, or if you want to add height to your bed.
Just beware that box springs are not suitable for memory foam or latex-based organic mattresses, as the coils can penetrate and tear the material. Also, using a box spring with these types of mattresses may void the warranty.
Do you need a foundation for a platform bed?
A platform bed has slats or a solid surface built in for support, so adding a separate foundation is redundant in most cases. One exception is if the slats on your platform bed are spaced too far apart – adding a small board or other hard surface will immediately add support.
How thick should the mattress be for a platform bed?
Most platform beds lie low to the ground, so aim for a thicker mattress, around 12 to 14 inches. The exact height you will need will depend on how tall and how mobile you are. One way to find your ideal height is to sit on the edge of the bed. Make sure your knees are aligned with your hips and your feet are flat on the floor.
Whether you use a base bed or another type of bed frame, make sure your mattress is up to the task. If it's time for an update, browse today's best mattress deals below, or bookmark our mattress sales hub so you don't miss out on great savings.